This sensational workout gives a complete facelift with results as good as surgery. The exercises are proven to lift and firm the entire face ~ facial skin and muscles are rejuvenated and renewed, for truly beautiful results.
Workout Time: 30 minutes

First results in 6-10 days - Full effect at 3-5 months
Age group: 45-75+
What does this workout do - how will I look?

You'll still look like you, but 'you' on a good day; with smooth, healthy skin and a firm face. Your friends and family will ask if you've had 'work' done, they'll tell you how great you look but they'll never guess how you're doing it. Every place where facial ageing shows has an exercise to rejuvenate and lift the skin, and more importantly: the muscles underneath where ageing really starts.
"Just wanted to let you know that today I glanced in a mirror I was passing whilst shopping and my first thought was WOW!" Naomi

What do I have to do?

You'll do one 30 minute workout, on 5 days a week for the first 3 months. After 3 months you choose how much you want to do: 2 workouts to keep your new look, or up to 4 times a week to boost results even more. Faceworks operates as a therapy business and we're here to support you if you need us.
Here's the full list of results:
Reduce lines and wrinkles without fillers
Firm and brighten facial skin
Lift facial sagging
Smooth frown lines
Lift eyebrows
Tone & refresh eye area
Enhance cheek contours
Erase naso-labial folds
Plump lips & reduce expression lines
Neaten the jawline and chin
Slow down new signs of ageing and stay looking younger
This Workout Program includes:

One 30 minute workout video in real time with voice-over

Plus the 12 individual exercise videos presented separately with in-depth information

Unique Focus Points, Beginner's tips and Advanced Positions

Lessons and print-outs to guide you: How to start, supercharge your results and keep them for life

Faceworks Classes: a time-released set of 8 classes on downloadable PDF

Results Timeline to track your facelift

Science of ageing, skin and facial muscles

Personal contact with Elaine and our Faceworks Helpdesk

FREE iPhone and iPad App

30 day refund guarantee
Exercise List
Facial Warm-up. Essential to prepare the muscles in the face; lips, jaw and neck for their workout. This exercise improves the condition of facial skin and stimulates blood and lymph flow to the larynx, trachea, thyroid and parathyroid glands.
Mouth Shaper One. This exercise lifts mouth corners for a happier expression, improves cheek contours by toning deep jaw muscles, and builds the surface muscles of the cheeks. It give lips a little plump, reduces sagging on the labial fold that runs between the mouth corner and the side of nose - and lastly, works muscles under the chin.
Mouth Shaper Two. This exercise plumps the lips and enhances their natural shape. It softens and fills expression lines around the mouth, and vertical lines in the top lip - this rejuvenating effect makes skin smoother around the mouth. Lastly, it increases blood circulation in the nose tip.

Lip Builder. A simple exercise that plumps and enlarges the lip profile; especially the cupids' bow - which flattens with age. It also tones the muscles either side of the nose. If you have existing lip lines it's best to add this exercise after the muscles build from the other exercises.

Eyebrow Lift. This exercise gives eyebrows to die for! High, defined and with a beautiful arch, the Eyebrow Lift de-creases frown ridges and furrows. This exercise also opens up the eye area for dramatic results, reducing the 'tired' look that settles around the eyes with age.

Cheek Toner One. The cheek contours are shaped, tightened and sculpted with this exercise, giving definition to the whole face. Muscles move up to sit on the cheekbone where they should be, giving the impression of higher cheekbones. The lower cheek and the sides of the face are completely reshaped. This exercise restores the correct width across the top of the cheek, and reduces weight at the bottom. It slims the look of plump faces by giving definition and structure.
Eye Toner One. This exercise is perfect for rebuilding the lower lid and under eye area. The lash line is defined; the eyes open up and begin to sparkle. Eye bags, hollows and shadows are all reduced and the skin becomes smoother as the tissues under the skin firm and tone up. Lines and wrinkles are plumped out. Signs of tiredness that become etched around the eyes gradually fade, to reveal a brighter, younger, rejuvenated appearance.
Eye Toner Two. Brighter, wide awake eyes are the first benefits you'll see from Eye Toner Two. It lifts away loose skin and completely reshapes the upper eye area. The upper lash line is enhanced: lashes appear more curved as the eyes open wider. Skin under the brow tightens and lifts to erase sagging and 'pouchy' eyes. Crows' feet, drooping skin and expression lines all reduce as the skin tones for a fresher, brighter appearance.
Chin and Jaw Toner. From reducing the look of plump faces to toning turkey necks, this exercise is a star performer. It is amazing to tone and lift double chins and gives definition to the entire jawline.It also reduces jowls, marionette lines and loose skin under the chin. The extremely gentle action of this exercise protects delicate neck skin, and prevents neck tendons from becoming enlarged.

Cheek Toner Two. The second fabulous cheek toner rejuvenates the upper cheek. It rebuilds the deep cheek muscles over the top curve, filling out under eye hollows to support and smooth the delicate skin. It increases circulation to the under eye skin to target wrinkles, puffiness, tear troughs, grooves and shadows. The effect of both the cheek toners can be simply stunning.
Mouth Area Shaper. I love this exercise because it tones and slims the entire lower face. It erases naso-labial folds (those troublesome folds of skin) that run from nose corners to mouth, so that mouth corners are lifted. It also targets marionette lines and jowls, by lifting and streamlining this often overlooked area. The lower face becomes neater and tidier as muscles tighten.

Face Finisher. The gentle expand and contract of this exercise improves lymph flow to effectively remove toxins that have built up during the workout, making this an ideal final exercise. It loosens tension in the temporo-mandibular joint: the jaw joint in front of the ear, and boosts circulation to the entire face.
Your Instructor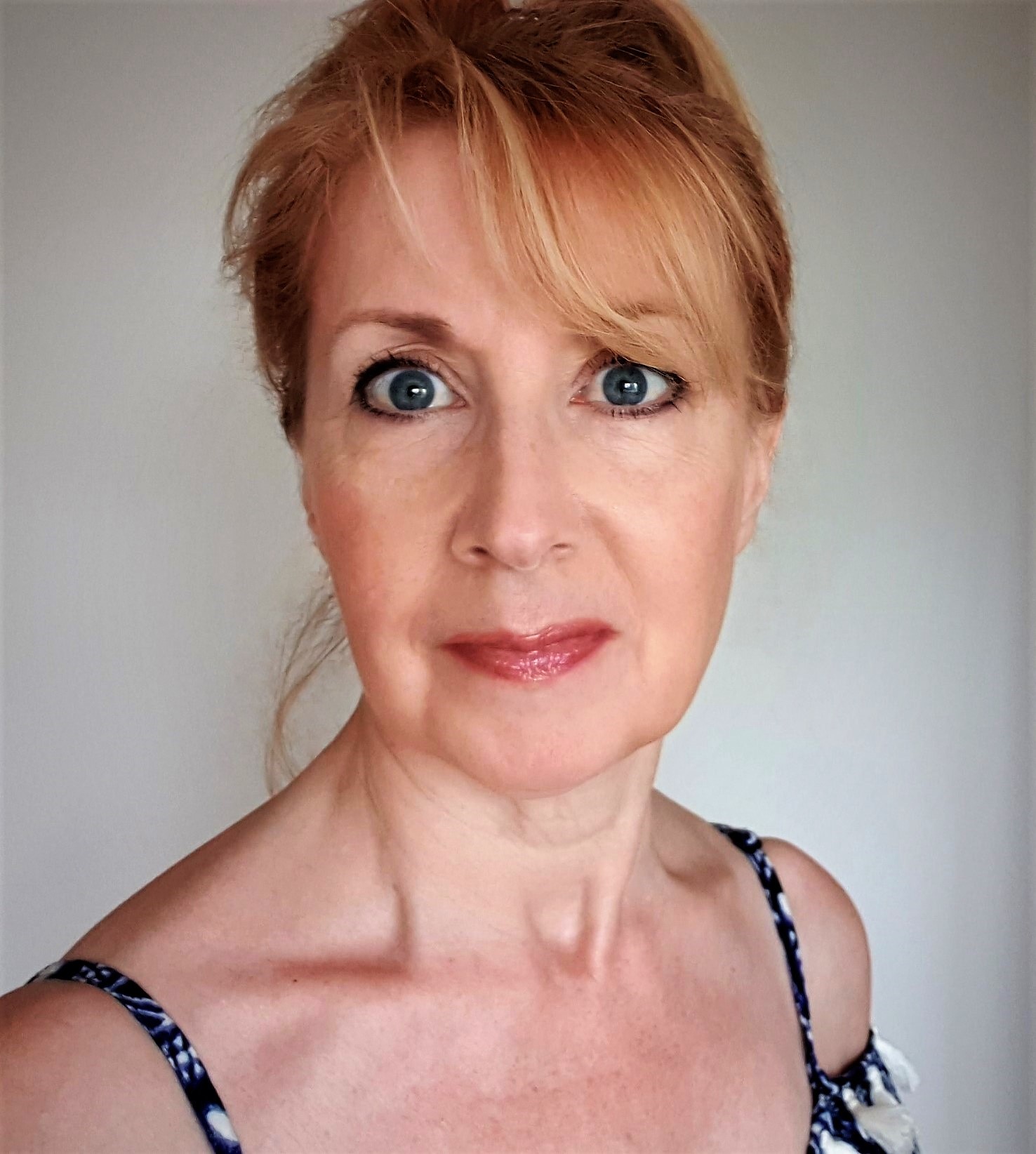 Hi there! My name is Elaine and I'm a Professional Therapist and Founder of the Faceworks program. I simply adore facial exercise. Faceworks has enabled me - and thousands of people in 135+ countries worldwide - to literally cheat aging. I've been a Natural Health and Beauty Therapist since 1998 and my skills are - very sincerely - here to help you to cheat aging too.
Frequently Asked Questions
When does the course start and finish?
The main course covers 12 weeks, plus an additional 4 weeks for the over 50s.: giving 16 weeks in total. plus ideas and options for life-long benefits .When you start and finish.is entirely up to the results you'd like - -there's lots of advice and help along the way!
How long do I have access to the course?
After enrolling, you have unlimited access to this course for as long as you like - across any and all devices you own.
What if I am unhappy with the course?
We would never want you to be unhappy! If you are unsatisfied with your purchase, contact us in the first 30 days and we will give you a full refund.
Do I have to pay more if the course is updated at a later date?
No, if the course is updated or added to, you'll get the extra material without needing to pay any more for it.