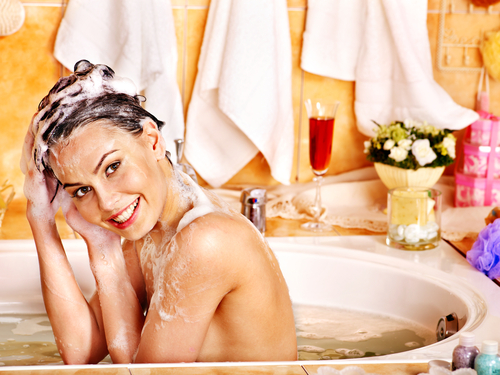 When I was growing up in the 1960s, the weekly 'shampoo and set' was the sum total of haircare for thousands of women: my Mum included. Women's hair was either coiffed like the Queen's, or backcombed into a beehive. It was generally accepted that long hair was only for women under 30. How times have changed: and thank goodness they have! After Alberto Balsam launched the first 'home' hair conditioner in the 1970s, the world woke up to hair products in a big way.
Like skin, hair changes with age – and not just the colour. The reason that hair can look dull and lifeless, or become sparse or break is often a combination of things. Harsh products and rough styling habits can strip hair of its' protective outer layer and make it weak and brittle. Different life-stage stresses can be hard on hair too. It isn't only colouring and heat that affect your hair: hormone changes in pregnancy or menopause, illness, stress and underlying nutritional deficiency can influence your hair's grow/rest/replace cycle. Anything that affects the cycle and stops new hair growing to replace ones that have shed, eventually leads to hair looking thinner and more fragile.
Anti-aging Hair Tips
Trim for strength: It might be obvious, but the best way to healthy hair is to get your hair trimmed regularly. My hairdresser recommends a trim every 6-8 weeks, or every 8-10 weeks if you're growing it. I found out recently that trainee hairdressers learn about 10 different haircuts to start them off. So if you want something other than the latest trend, don't have your hair cut by someone who's recently qualified.
Hair Colour: If you use hair colour, switch to a product that is kinder to your hair. Have your colour done in a salon, rather than using a home dye kit. If you're blonde, go a shade or two darker to reduce the amount of peroxide you subject your hair to, which dries and damages hair.
Use a gentle shampoo: Many shampoos contain harsh chemicals, or ingredients that simply coat each hair to make it look like it's healthy and shiny. A few years ago when I reviewed a L'Oreal shampoo, I discovered the ingredient list included chemicals that could dissolve hair and clean drains. I think I'm worth more than that! These days, I use natural shampoo, or brands like L'Anza.
Shampoo tip: instead of wash, rinse, repeat using a double dose of shampoo, start by giving your hair a good soaking with water. Follow this with a single shampoo and massage your scalp thoroughly, then rinse, finishing with a shot of cold water. Condition as usual. Not only will you avoid stripping out your hair's natural oils, your shampoo will last longer. The cold water helps to close the overlapping layers on the outer cuticle to seal in moisture and make hair shinier.
Hair Styling: a good cut that works with your hair often reduces the need for heated styling. Know the limitations of your hair type and how it behaves. If you straighten or blow-dry your hair, switch the straighteners or dryer to a cooler temperature.
The Best Styling Tip I've EVER heard is to put hair up at night: Brush hair through. Put your hair up into a high ponytail that sits right at the top of your head, just behind your forehead. Sleep with your hair up, then brush out in the morning. Et voila! No styling necessary!
Styling protection: if you use a hairdryer, straighteners or tongs, protect your hair with a heat-defence spray. I use TRESemme Heat Defence or L'Anza Neem Plant Silk Serum –both make styling so much easier and give great shine.
Protein products: These rebuild hair with keratin, but if used often they can make it dry and brittle. Use them once a week, or periodically rather than all the time. Look for leave in conditioning sprays: often a quicker option.
Use hair oil: Hair oil increases the strength and suppleness of hair, and prevents split ends and breakage. The key is to use only one or two drops, so the oil is completely invisible when it's on your hair. A tiny amount doesn't weigh hair down or make it look greasy. I've been using hair oil for about a year now and it has made my hair a lot stronger.
Every day oil treatment: Rub a drop or two between your palms to warm the oil and apply to mid-lengths and ends. Apply after you finish styling and before hairspray – use it to tame frizz. Moroccan or Argan oil is often used because the oil penetrates deep into the hair shaft. 'Dry' oils are a bit of a gimmick and don't seem to work as well as natural oils.
Super split end oil treatment: use olive, coconut or hemp oil. Apply about 10ml of oil to the lengths and ends of hair. Leave for an hour, or better still put an old towel on your pillow and leave the oil to absorb overnight. Wash hair thoroughly and condition as normal.
Feed your hair from the inside with a specific vitamin and mineral supplement for hair. Such as Hair and Nail Complex by Biocare , MaxiHair or Florisene by Lamberts . don't forget results take a while to show, since your hair has to grow for a while, so expect to use supplements for 4 to 6 months at the absolute minimum.
My case of bad hair
I had problems some years ago after my parents suddenly needed more help. The combined worry about my parents, and the simultaneous stress of steering two teenage children through their exams literally made my hair fall out. And what didn't fall out started to split. I had a hairdresser friend with a similar amount of worry about her parents, and her hair was coming out too, so I was sure the worry was causing it.
The first thing I did was get 4 inches chopped off the length. My colourist advised a kinder colour to avoid more breakage, and I used nutrition and oils to protect what was left. I regularly slept with olive oil on my hair. I couldn't reduce my stress but the steps I took prevented further hair loss until the situation eased. My parents got settled into a new routine, the exams ended and my hair slowly grew back. I've been more careful about my hair health since then, because it took a while to realize my hair was suffering.
Elaine Bartlett, Dip. ITEC. Kinesiologist and Faceworks Founder